Topic:
Lap Around the Portal

Series:
Continuing our introductory Azure Fundamentals Series
Azure Fundamentals introduces cloud services, and how these services are provided by Microsoft Azure.

This talk covers:
– Azure Active Directory: How Azure AD ties everything Microsoft Cloud together (Office 365, Power BI, Dynamics), AD Connect, Multi-Factor Authentication (MFA), Role Based Access Control (RBAC)
– Virtual Machines: Sizing, Deploying, Connecting-to and Protecting your VMs
– App Service: Deploying web sites and applications
– Cloud Shell: How to start using it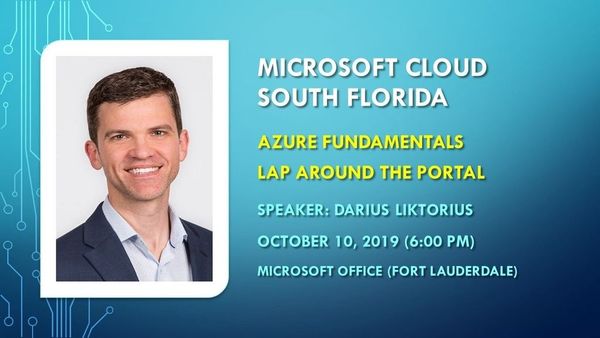 About the Speaker:
Darius Liktorius, Cloud Architect @ Cognizant Softvision

Darius has over twenty years of hands-on technical and managerial experience in Solutions Architecture, Performance Optimization, Database Administration & Optimization, Infrastructure Engineering, Software Development and Cloud Solutions (both Azure and AWS). He has advanced numerous organizations from startups to non-profits and Fortune 100 enterprises through the use of technology, and mentored hundreds of developers, DBAs and engineers.